We will gladly inform you as soon as the article is available again.

I hereby confirm that I have read the

Privacy policy

.*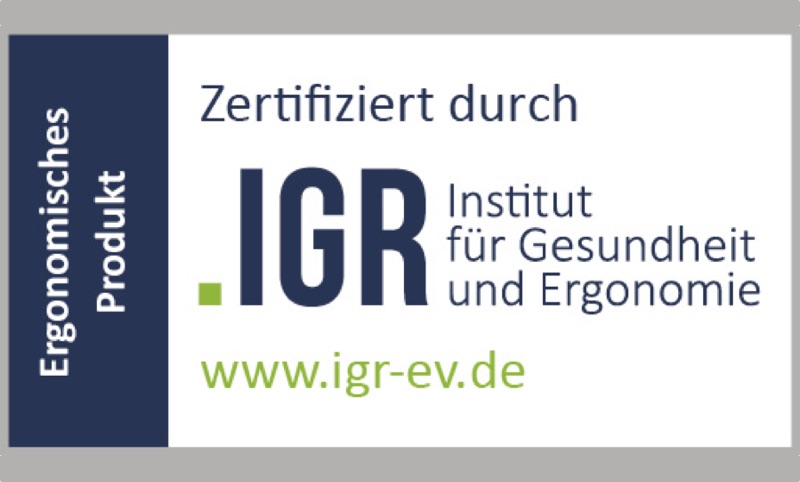 If you have any further questions about this article, please feel free to contact us using the form below.
Product Video
This YouTube video is embedded in the "extended data protection mode" on our website. A click on the video can trigger further data processing operations on YouTube, over which we as the website operator no longer have any influence.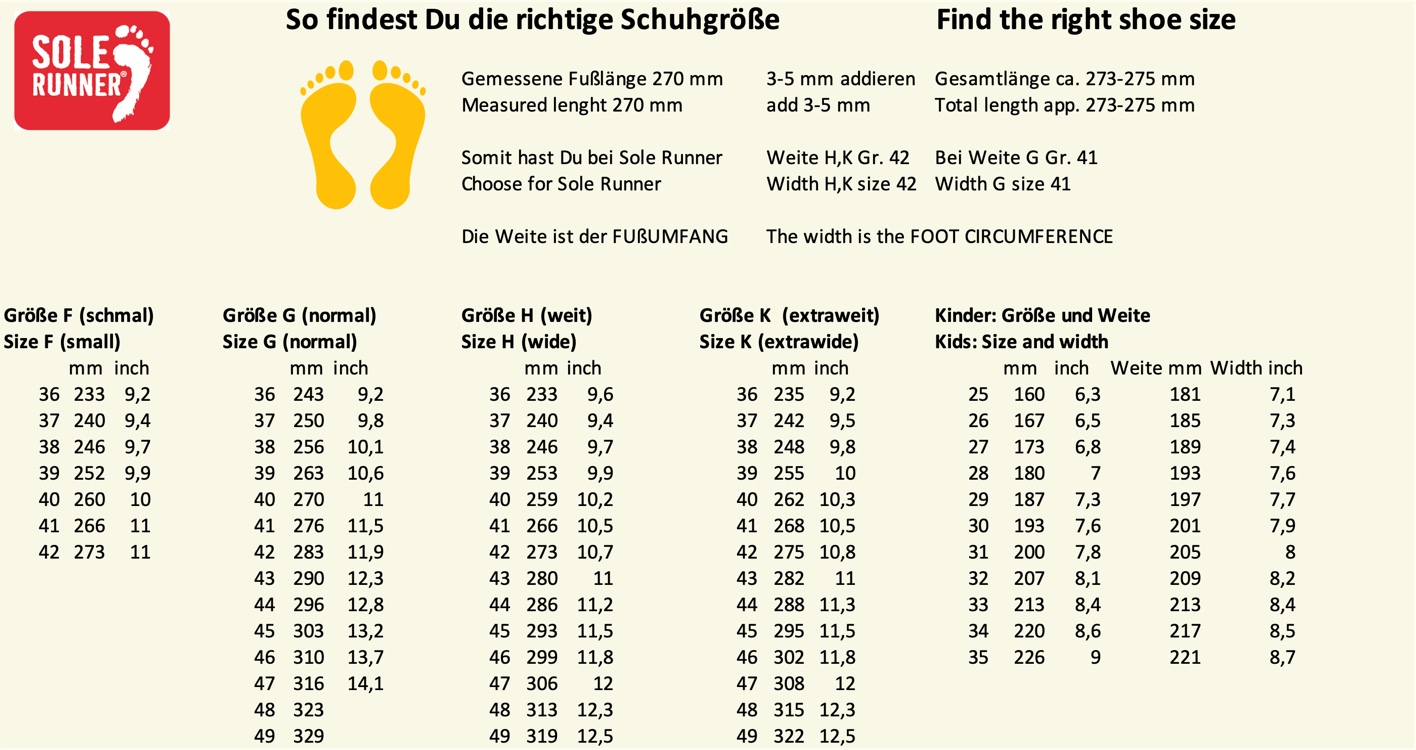 Sole Runner® barefoot shoes should be maintained like the any other shoe.
For our styles, we use high-quality fabrics and leather as uppers.
When selecting fabrics and leathers, we make sure that the materials are water repellent.
Learn more about how materials are made hydrophobic and wha the difference is between waterproof and water-repellent check our Q&A site.

Nowadays, a wide variety of leathers are used for shoe uppers. Often it is not easy to distinguish between the different types of leather. In general, a distinction is made between pigmented smooth leather (surface-dyed), open-pore smooth leather (aniline leather), greasy leather and suede leather (nubuk, suede). We do not use pigmented leathers. These leathers are the most common, but the surface coloring covers the natural grain pattern.
Our leathers are colored throughout. With these so-called aniline leathers, the natural grain pattern is preserved. With this type of dyeing, the natural character of the leather is retained and is visible.
Of course, the leather expert in production tries to use leathers with the same appearance, so that the left and the right shoe look the same.
You can also recognize these leathers by the fact that the inside of the leather is also dyed. Since we use water soluble dye, it is possible that certain leathers, when wet from the outside or even from the inside, may stain slightly.
Find out more information about leather.
Smooth leather can be easily cared for with a polish and the water-repellent properties should be refreshed from time to time with the help of a waterproofing spray.
A nubuk or suede leather should not be polished. A spray is sufficient and with the somewhat rougher for sued we recommend to treat the material additionally with a suede brush.
These brushes are available in rubber or with a wire/plastic combination. Due to the incorporated wire, you should not use this brush for smooth leather or nubuk leather, because this gives scratches in the upper material.
The care products we offer can be found under care. Due to their somewhat rough properties, suede or nubuk leather are very easy to maintain and give the shoe a very special, almost velvety look.
Our shoes made of fabric can be easily cleaned with water. Except for a few models, they are synthetic materials that absorb little moisture and ensure quick drying. We wear our shoes with mesh uppers during water sports or sometimes during a river hike.
Some models are made of a cotton canvas upper. Cotton likes no moisture, so you should use water sparingly here.
The material descriptions are always on the article. It is also important with fabric shoes to maintain them again with a waterproofing spray to refresh the properties.
Please note that leather is a natural product. Spraying opens the pores and allows the waterproofing liquid to soak in. Therefore, it is recommended to impregnate leather shoes a few hours before wearing.
What to consider when choosing a shoe width?
A barefoot shoe should not only be light or have a thin sole to provide the contact with the ground as well as possible. It should also be cut wide, so that the toes have room to work and the foot is not restricted.
If you looking for Kid shoes please find the width directly on our size chart: https://www.sole-runner.com/en/content/shoe-size


Are you searching for adult shoes please see below.

There are millions of people with twice as much different feet. There are many forms of foot shapes. There are slender feet, strong feet, flat feet or feet with a high instep.
Many people also suffer from deformed feet, have injuries, hammer toes or a hallux valgus.
A slim foot with a high dorm of the foot may need a wide shoe, because a wide shoe offers more volume than a narrow shoe. A wide, strong but flat foot need a wide or extra-wide shoe.


Saying this we also have the etiquette. Who would like to go into a serious-minded business meeting in a wide sports shoe?
We at Sole Runner try to live up to any situation with our barefoot shoe styles. You might also consider making compromises. A chic Aponi or Scout Moccasin is certainly better suited to a professional appearance than z.b. a Transition Vario and a foot with a Hallux Valgus often feel just as comfortable in a soft, normally cut suede moccasin as in a wide-cut canvas shoe.


Without making the purchase of shoe too complicated, we give here a hint about the widths of our lasts. From shoe size to shoe size, we add about 4mm of width.
Starting with shoe size 36, this means the following for the circumference:
Narrow Last: 214mm, Normal last: 224mm, Wide last: 230mm, Extra wide last: 238mm. The circumference is measured from the small toe joint over the big toe joint.

Are you looking for a casual shoe, a sport shoe or a business style. You certainly find your right SOLE RUNNER® barefoot shoe. For those who feel insecure with the shoe width, we have installed a width filter on our product pages.
document.addEventListener('DOMContentLoaded', function() { var oldUVP=$('.single-rightside .crossprice>del').text().replace(/,/,".").replace(/EUR/," "); var currentPrice = $('.single-rightside .salePrice>span:first-child').text().replace(/,/,".").replace(/EUR/," "); var oldUVP=oldUVP.replace(/[^0-9\.]+/g,""); var currentPrice = currentPrice.replace(/[^0-9\.]+/g,""); function calculatePercent() { var percent = (oldUVP-currentPrice)/oldUVP*100; var percentRound = Math.round(percent); $(".saving_p").html("-"+percentRound+"%"); currentSaving=oldUVP-currentPrice,currentSaving=currentSaving.toFixed(2).replace(/\./,","), $("#saving_eur").html(currentSaving+" EUR") };calculatePercent(); var ArtNr = $('.variationID').html(); $('input[name="variationid"]').val('258543-29'); $(".ItemQuestionForm form > input[data-mail='subject']").val("Artikel-Nummer: " + ArtNr); $('.ItemQuestionForm input[name="Artikelnr."]').attr('disabled', 'disabled').val(ArtNr); });