Online Returns

Please consider we do offer free returns only from Germany and Austria.
If your delivery address was Germany please click on Online Return and follow the instructions from our logistic partner BPS.
In order to help us to identify your return, it is important to place your Order ID in the field "Referenz".
You do not have to register on that website. Just fill in your sender address and Order ID and drop off at a GLS depot.
Pls. make sure that the personal at the GLS Shop scan one of the 2 codes as shown on the picture (red frame) as seen below.
Below the bar code numbers are seen which can also be typed in the system.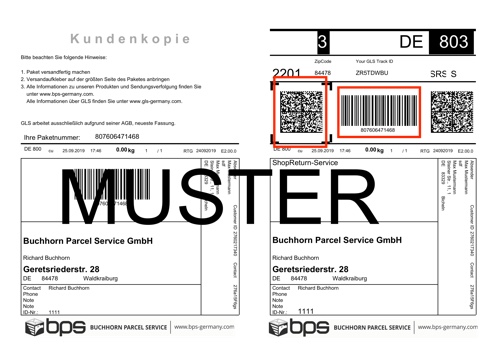 Did we deliver to a country outside Germany/Austria please send back the goods on your own cost to the following address
Please send your returns to:
Buchhorn Parcel Service GmbH
Sole Runner
Geretsriederstr. 28
84478 Waldkraiburg
Germany
You might install Adobe Reader to open the return ticket.
http://get.adobe.com/de/reader/
Thank you for buying a Sole Runner product
Your Sole Runner Team